Kenya's Mary Keitany, the holder of the world marathon record in a women-only race, generously agreed to donate some of her racing kit to the World Athletics Heritage Collection following her retirement in September.
Since the beginning of December, Keitany's singlet, shorts and shoes from her fourth and final New York City Marathon victory in 2018 have been on display in the 3D virtual Museum of World Athletics (MOWA).
We are delighted to celebrate her donation by recapping the career of one of the all-time greats of road running.
'If I don't do this, then what?'
Hailing from Baringo County, a province immediately to the east of the focal point for Kenyan running in Eldoret, there are many well-known and successful athletes who come from the area, but Keitany's impoverished childhood made it initially unlikely that she was going to join their number.
She elaborated on her tough childhood in a lengthy interview with The New York Times in 2019 – details of which are only precised here – and described living in a home without electricity or any other basic amenities, as well as having no shoes for much of her childhood.
Her household tasks as a very young child included walking several kilometres to a nearby river to haul pails of water home for cooking and cleaning.
Keitany's parents, both struggling subsistence farmers, were unable to afford even the modest school fees for her to continue her education from her mid-teens so, at the age of 15, to help support her parents and five siblings, she left and went to work as a live-in maid almost 20 kilometres away, caring for three infants and sometimes not seeing her family for several months at a time.
"It was not an easy job," reflected Keitany. "But I was getting money to give to my parents. I was thinking, 'If I don't do this, then what?'"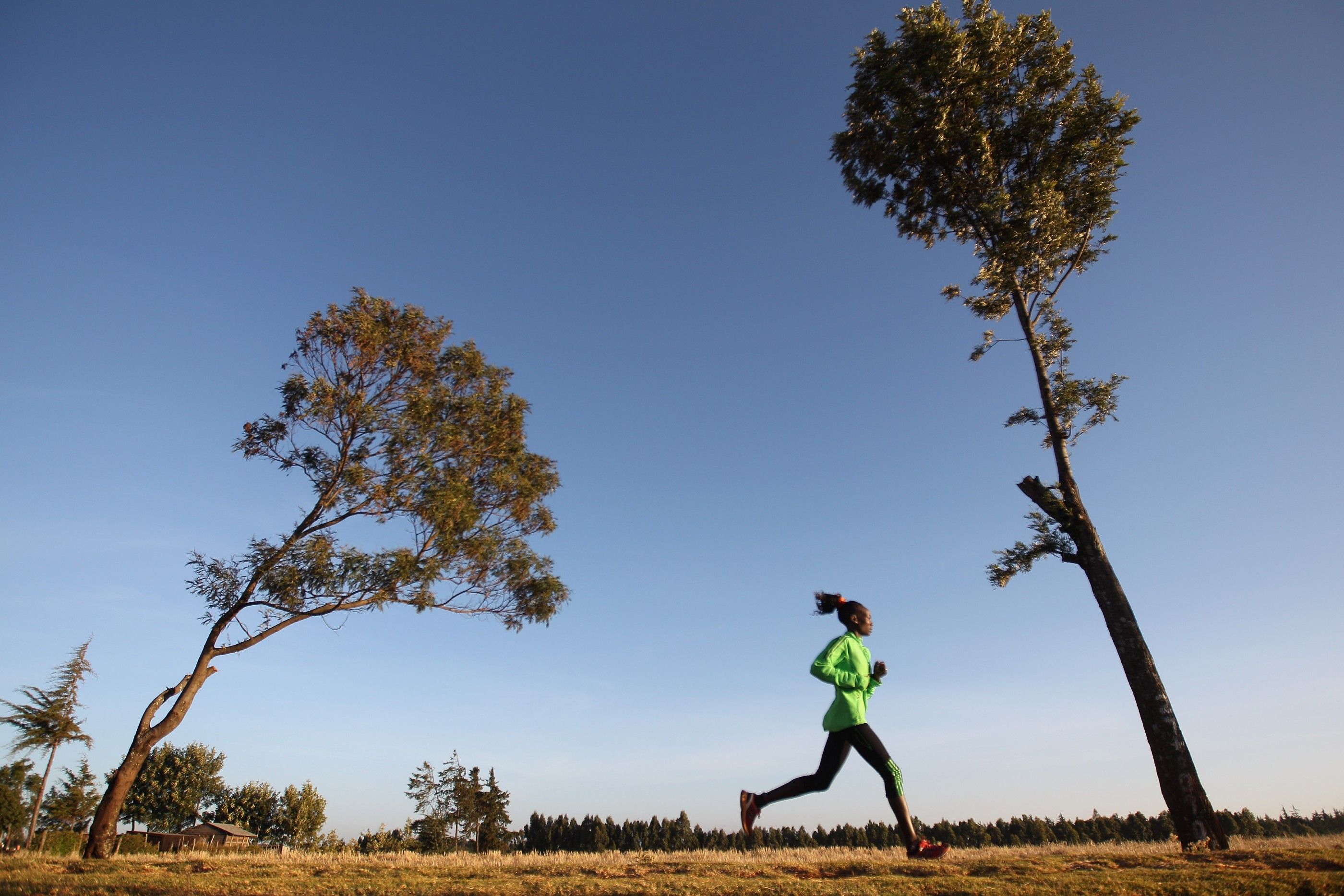 Mary Keitany training in Iten
Hidden talent out in the open
She returned to school after two years when a relative was able to help financially and Keitany started to attend the National Hidden Talents Academy near Nairobi, a community-based secondary school that primarily assists orphaned and vulnerable children.
The school had a strong emphasis on physical education, which continues to this day, and it has produced several Kenyan internationals in a variety of sports. Keitany's precocious talent as a runner, which had been evident in her early teens prior to the enforced two-year hiatus, came to the fore.
After graduating from high school in her early 20s, Keitany was then talent-spotted in local races and assisted by the Kenyan international runner Lenah Cheruiyot, who was seventh in the 2002 World Athletics Half Marathon Championships, and during the early part of 2006 she took a gamble and became a full-time runner.
After eight months of hard training and sharing a cramped one-bedroom house with three other runners, Keitany made her first overseas trip and caused a minor sensation by winning the relatively low-key Sevilla-Los Palacios Half Marathon in southern Spain – not to be confused with the much better known EDP Sevilla Half Marathon – by over two minutes in 1:09:06, a course record that exists to this day ahead of the 2021 edition on 19 December.
The words 'unknown Kenyan' are too often used to hide a lack of research or information but in this instance, it was a most appropriate phrase and, amid rumours at the time that the course was short because of Keitany's super-quick time on the circuit, it bought her to the attention of both athletics aficionados and race promoters alike.
In the first nine months of 2007, Keitany proved that her debut international race had been no fluke as she rattled off another five half marathon victories in six outings at races in Portugal, Spain and France, also reducing her best to 1:08:36.
Keitany takes silver in Udine
This streak of success earned her a place on the Kenyan team at the 2007 World Athletics Half Marathon Championships in the Italian city of Udine – an accolade she subsequently admitted as being among her wildest dreams, despite her ambition to be a top-flight runner 12 months before – and she showed her considerable mettle to finish second behind the Netherlands' Lornah Kiplagat and bank a cheque for a life-changing $15,000.
Mary Keitany at the 2007 World Athletics Half Marathon Championships in Udine
To now give a complete narrative of the next 12 years of Keitany's superb competitive running career through to her last race, the 2019 New York City Marathon, would take a book and cannot be done justice in just a few hundred words.
However, it was apposite that her running career should finish in the Big Apple at arguably the world's most famous race over the classic distance, as it is this event with which she is probably most closely associated.
After finishing third in New York on her marathon debut in 2010 – in the wake of her win at the 2009 World Athletics Half Marathon Championships in 1:06:36 which, at the time, was the second fastest mark ever on a record-legal course and an African record – Keitany went on to win the New York City Marathon on three consecutive occasions between 2014 and 2016 and then again in 2018.
To this day, she remains the only woman other than the incomparable Grete Waitz to have triumphed in New York more than three times.
Keitany also made her mark in the London Marathon. Her first triumph there came in 2011 and further victories in the British capital came in 2012 and 2017.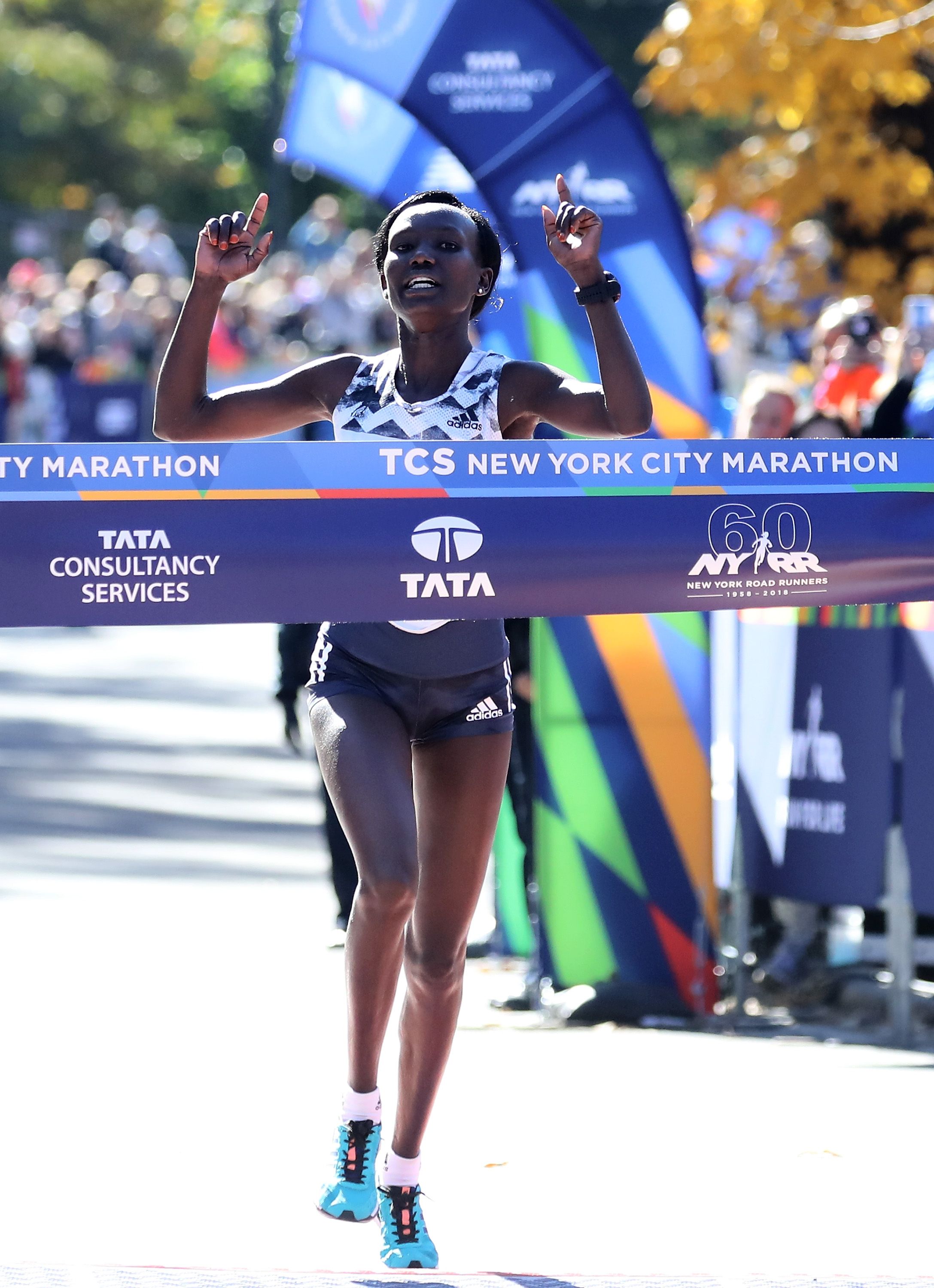 Mary Keitany wins the 2018 New York City Marathon, in kit she has donated to the World Athletics Heritage Collection

Record runs in London and RAK
She continues to hold the women-only marathon world record with a time of 2:17:01 set when she completed her hat-trick of London wins four years ago.
Another particularly notable accolade during her illustrious career was setting a world half marathon record of 1:05:50 at the 2011 RAK Half Marathon.
Perhaps the only blemish on Keitany's competitive record is that she never climbed the podium at an Olympic Games.
At the London 2012 Olympic Games, she started arguably as the favourite having returned to the city with a world-leading 2:18:37 from the London Marathon, albeit on a different course, four months earlier. She was part of a leading quartet of runners at 40km but was the luckless member of the group to miss out in the battle for the medals over the final two kilometres and crossed the line in fourth place.
In 2016, she was named as a non-travelling reserve for the Kenyan contingent going to Rio, but Keitany had her sights set on challenging for a place on the Tokyo team before the pandemic, and a cruelly timed back injury, intervened.
In September this year – with her 40th birthday looming on 18 January 2022 – Keitany decided to call time on her outstanding career and announced the end of her professional running in a valedictory press release.
"After my successful 2019, when I had some good results including second place in New York, I was hopeful that I could still be very competitive internationally for several more years even though I am in my late 30s," she commented.
"However, I'm sad to say, a back injury that I suffered in late 2019 made a decision about my retirement for me. I couldn't get the treatment I wanted in Europe because of the pandemic-related travel restrictions last year and every time I thought I had got over the injury and started training hard, it became a problem again."
Sadly, Keitany will no longer be seen on the start line of a major marathon but nevertheless she leaves behind a host of memorable performances that have assured her of a place in the pantheon of road running greats.
Facebook Comments