The easing of the rules regarding lane infringements are among the competition rule (CR) and technical rule (TR) changes approved by the World Athletics Council which come into force from today (1 November 2021).
These were agreed in March and July 2021 and are available for download in the Book of Rules. Area and Member Federations are notified of all rule changes directly after the Council meeting at which the decision is made.
Lane infringement rule changes had been on the agenda of the World Athletics Technical Committee since January 2018. At that year's World Athletics Indoor Championships in Birmingham in the March, there were 21 disqualifications relating to lane violations, including four in two races, and since then there has been a heightened debate about these rules.
Rather like race walk transgressions, some one-off lane infringements are now permitted, but shall result in disqualification if they are repeated by the same athlete or within the same relay team at any time during the rounds of the same event.
Two further exceptions have been added to the list of scenarios (under TR 17.4) where a lane infringement shall not lead to immediate disqualification. These are: 17.4.2 – while racing in lanes and the inner lane line, the border or kerb is touched once on a bend; and 17.4.3 – while racing not in lanes and one step is taken on or completely over the inner border line or kerb.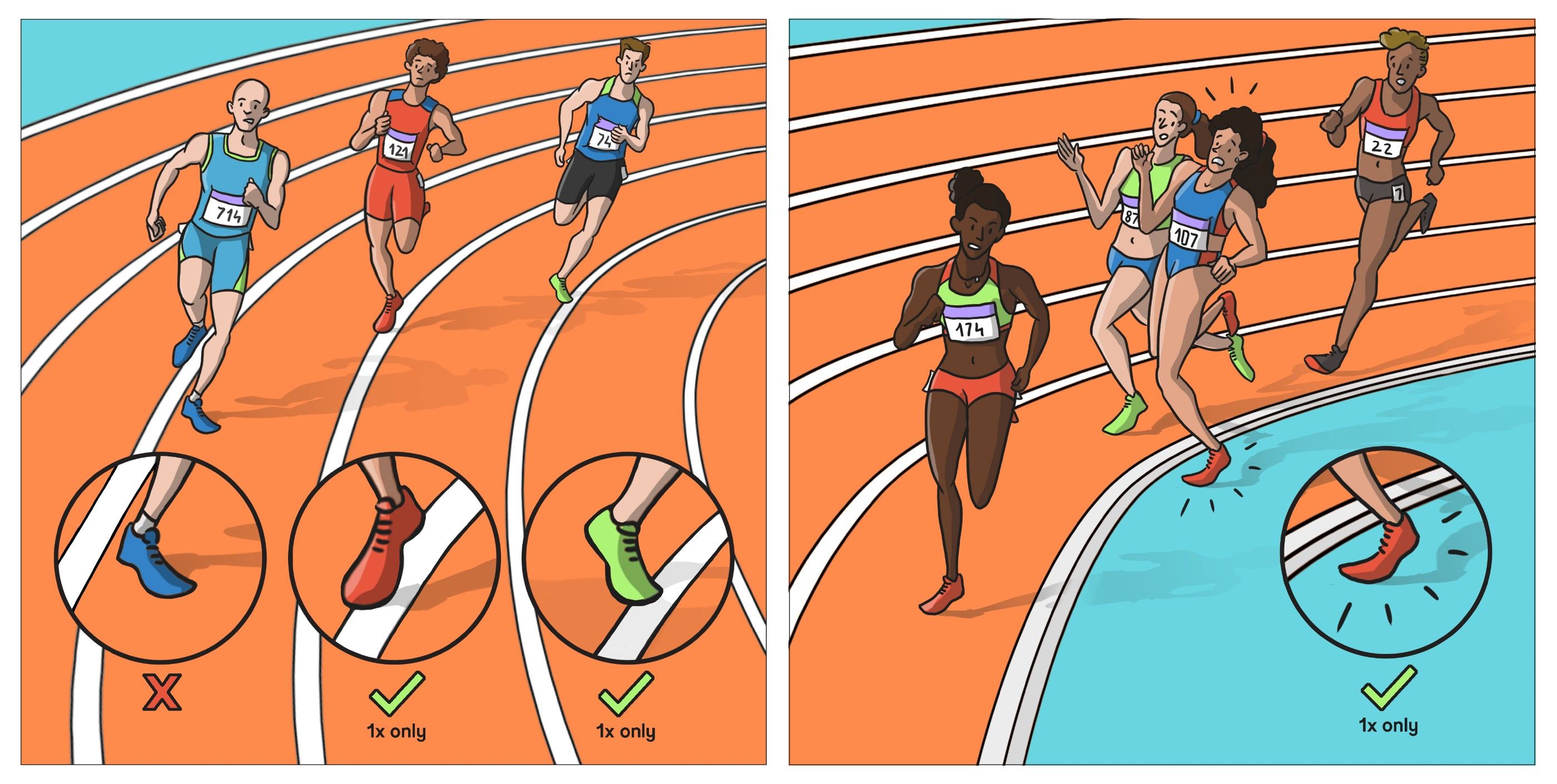 A second occurrence of the act described in these new clauses, in the same event by an individual or any team member, shall result in disqualification. A record of such transgressions shall therefore be carried forward to later rounds of that event and indicated on start lists and results, in a similar fashion to the separate yellow card notices for breaches of discipline.
Athletes racing in lanes shall continue to be disqualified if they are judged to have fully stepped inside the inner border line or kerb, even only once. Or if either of the acts described in 17.4.2 or 17.4.3 are judged to bring positional advantage or impede another athlete.
Other rule changes include:
• CR 19.4 – Visual indications of the validity of a field event trial, other than red or white flags, may now be approved
• CR 31.3 – More detail is set out on the requisite doping control process for world record ratification, including the need for samples to be analysed for Erythropoiesis Stimulating Agents in endurance events from 400m upwards
• CR 32 – The 50km road race, 35,000m race walk and 35km race walk shall be added to the list of recognised world record events for men and women, with the men's 30,000m race walk deleted from the list once the first men's 35,000m mark is established
• TR 11.3 – Now specifies the conditions required for legitimate performances in events staged indoors in facilities which may not otherwise comply with the rules of indoor competition. Clause 11.3.4 specifies that marks made on indoor oval tracks longer than 201.2m, but not greater than 400m, shall be regarded as valid for all but world indoor records. (Meaning, for example, that an outright world record may be set on an indoor 300m track. The previous TR 11.3 is unchanged and renumbered to 11.4)
• TR 30.1.1 – (as reported in 2020 under then rule 185.1) Long and triple jump take-off failure shall be re-defined to include any breaking of the vertical plane of the take-off line. TR 29.5 further specifies that a plasticine indicator board may be used to assist judges, and that this should be set at an angle for 90° (rather than the previous 45°)
• TR 32.12 – A definition is added of the 'stationary position' required for athletes to take after entering a throwing circle and before commencing their trial
Separate Competition and Technical Rule downloads (plus updates) are also available in the Library. From the Library, select Constitution & Book of Rules, then Book C: Competition. This is where any rule amendments agreed at Council Meetings will be first posted.
Facebook Comments