Callum Hawkins does not recall his attempts to carry on after his fall during the Commonwealth Games marathon.
The Scot's first question for ambulance staff, who had helped the race leader off the course with a mile to go, was a hopeful inquiry about the result.
"I knew the answer before I asked, but I remember asking 'Did I win?'" the 25-year-old told BBC Scotland.
"I thought there might have been a chance I went on auto-pilot and finished it but nobody answered and I knew straightaway, 'that's a no'."
Hawkins had a two-minute lead when he collapsed on the Gold Coast.
In hot conditions, he managed to continue for another couple of hundred metres before going down again, hitting his head on a roadside barrier.
"I remember thinking 'If I can just get up and finish, I'll probably get a medal but if three people go past then I'll throw the towel in'," added Hawkins.
"But I don't remember getting up and actually running those extra metres.
"I'd run the course a few weeks before and when I saw the bridge I knew I had a mile, a mile-and-a-half to go. I just needed to keep going and I'd get the medal.
"Then the next thing I know, my legs are almost switching off on me and I'm starting to stumble.
'Watching it reminds me of the opportunity I missed'
"I remember falling off the side of the road and trying my best to get back up but my legs were like jelly. Next thing I remember is being in an ambulance.
"I was in Australia for five weeks to get used to the conditions and it had gone really well.
"Even up to the point I collapsed, there was no sign that it was going to happen. I was feeling pretty normal for a marathon at 39km (24.2 miles in).
"There was no point when I thought 'I'm over heating, I need to slow down' or anything like that."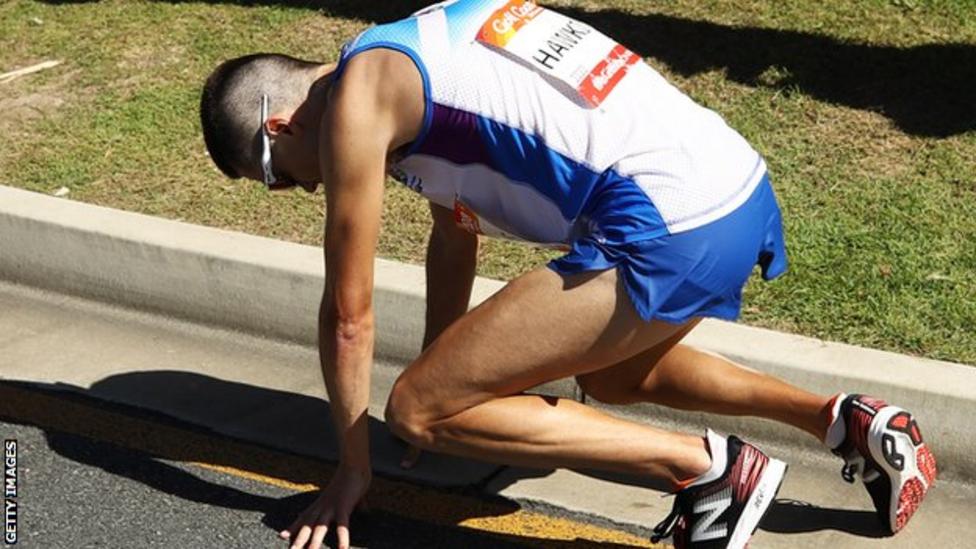 Watching re-runs of his fall is frustrating rather than distressing for Hawkins, who is already plotting his return to competition.
"It doesn't affect me too much," said Hawkins of his reaction to the television footage.
"It's more annoying that I managed to put myself in that place because, if I hadn't, I'd have won a medal. It reminds me of the opportunity I missed.
"I put six months of work in to try and get a medal, so to miss out in that manner is frustrating."
Hawkins, who says he will "definitely do a marathon next year", believes the incident will make him more determined to succeed and help his future race strategy.
"The conditions in Tokyo (2020 Olympics) will be similar," he said.
"If anything it's made me hungrier. I don't want to be known as the guy who keeled over because of the heat. I want to be known as the guy who's got a gold medal."
Scottish team-mate Robbie Simpson took bronze in a race won by Australia's Mike Shelley.
"To hear Robbie got third actually helped me a lot," said Hawkins. "I was really pleased for him and it sort of lightened everything.
"Mike sent me a message saying, 'that's not the way I wanted to win and that he hopes I get back racing soon'."
Shelley has been a target for online abuse for racing past the stricken Scot but Hawkins was quick to stress that it was not an issue for him.
He said: "There was a medical person with me so what could he actually do?
"He's 40km into tough conditions, he's probably just hanging on and that's where all his concentration is. By all accounts he was pretty on the edge by the finish.
"He could have looked down and it could have hit him 'that could be me' and then he just explodes in similar fashion."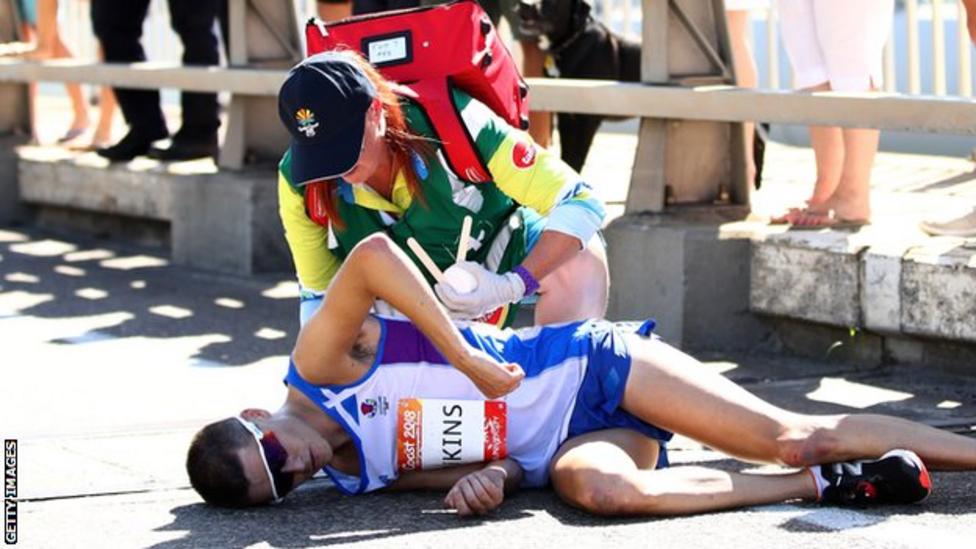 Scottish Athletics and Commonwealth Games Scotland asked Gold Coast organisers why Hawkins did not receive quicker medical assistance.
A statement from Scottish Athletics pointed out that seven of the 24 runners in the men's marathon failed to finish, adding that they believe six of those needed hospital treatment.
Hawkins initially refused help for fear of disqualification but admits he could have suffered "serious damage".
"As a competitive elite athlete, I'm always going to say no (to the offer of aid)," he said. "That's my first instinct – especially in a gold-medal position.
"I just wanted to keep pushing. I probably wasn't in the right mind to make the right decision."
Hawkins has already spoken to International Association of Athletics Federations (IAAF) representatives about his experience, including president Sebastian Coe.
"To have information about the road temperature is going to be a big thing," said Hawkins. "The weather apps were saying 28C but probably on the road, in the sun, it was 35C plus.
"There needs to be something in place if they know it's going to be hot. The IAAF say they want to standardize everything, so there is more control."
Facebook Comments